The past couple months have been a roller coaster ride for investors and traders. Overseas headline news has made investing and trading more difficult than normal because of prices gaping up or down at the opening bell several times per week. The next two weeks are going to be even crazier because of the Greek election and Spanish bank bailout.
This past weekend it looks as though the Spanish banks are getting bailed out which will be similar to the 2008 – 09 bailout we saw in the United States. This news has marked up stocks and commodity prices during overnight trading Sunday. The major indexes are up 1-2% across the board.
Looking at the technical and sentiment this is what I feel will take place and how it can be attacked…
Major stock indexes and commodities will be trading at resistance at the open on Monday.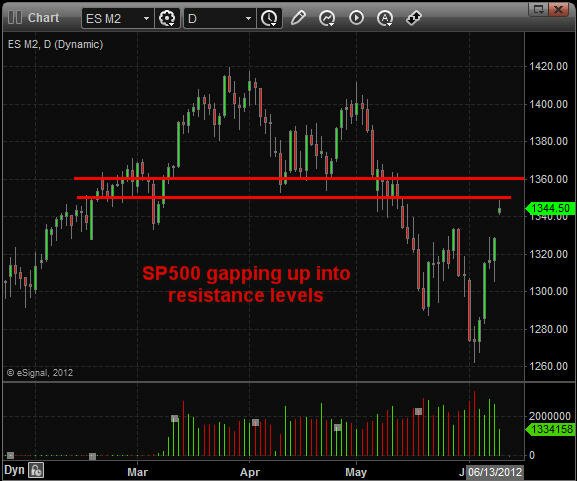 And the dollar which was hit hard in overnight trading Sunday is now trading at support. A bounce in the dollar and sellers stepping in at resistance could pull the market down for session or two.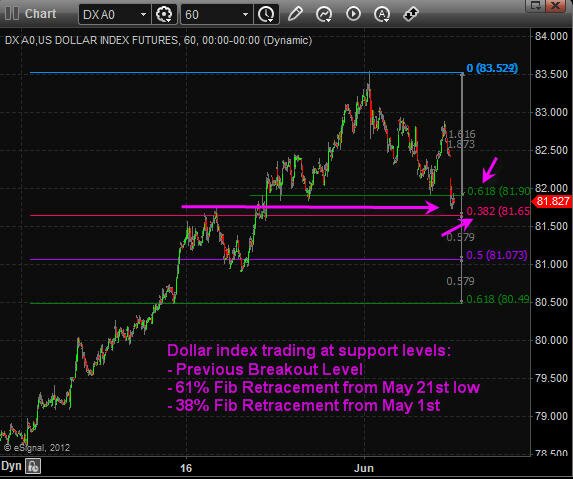 The big questions is what do traders do with this jump stocks and commodities?
The first 15 minutes of Monday's session short sellers will be panicking out of their positions and getting stopped out. Once the dust starts to settle resistance and an oversold dollar may do their part and force the market lower later in the day.
Now if we add sentiment into this picture thinking of the masses covering their short positions in a big way we know from past events that when the masses all trade the same direction the market quickly reverses goes the opposite direction in the short term for 1-3 days.
So what does one do if they are short the market this week as I am in this boat?
Personally, I would wait 15-30 minutes to let things unfold and see what the price, volume and sentiment is doing. Keep in mind morning trends tend to stall out and roll over at 10am ET, or 11:30am ET. Knowing that; I will be watching price and volume to see if there is a bearish intraday pattern unfolding that looks as though it will unfold within those time frames. If so, I will hold my position and look for a reversal back down where I can exit at a lower price hopefully. But for all we know this news may just put the top market and we get much lower prices yet. Anyways, that is my plan as of Sunday night.
Stocks, Gold & Dollar Rising Together?
The recent few months I have been talking about how we could stocks, commodities and the dollar rise together. While is sounds crazy we just may start seeing that happen sooner than later. The Euro group appears to be willing to bailout the Spanish banks and that should cause the Euro lose more value and send the US dollar soaring.
Having more Euro liquidity is bullish for stocks and commodities along with the dollar. For all we know this just may be the financial storm for American's next eggs (investments owned in Dollars) to rebound strongly over the next 12 months.
Chris Vermeulen – TradersVideoPlaybook.com